ARRIBA!
Sunset Assault on Matney
Site Viewing Tip: If you find the graphics make reading the text difficult, try draging your mouse across the text while holding down the left mouse button inorder to highlight the text.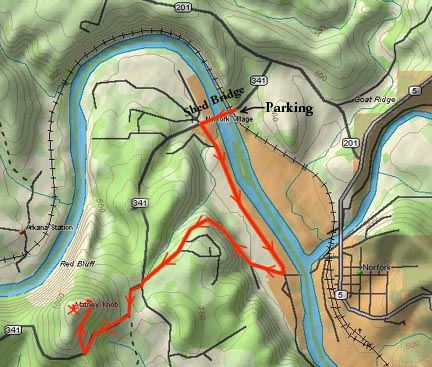 Location: Baxter County Arkansas near Norfork. Riders will meet at the Shed Bridge on Push Mountain Road (Hwy 341)

Day: Thursday 28 March 2002

The ride is scheduled on a weekday because a full moon is scheduled to rise shortly after the sunset. This hopefully will be a spectacular visual event. I have seen several concurrent sunsets and full moon rises while flying that were truely awesome. Hopefully the one on the 28th of March will be. Anyone interested may offer an encore ride the following weekend for those that cannot get free from work on Thursday.

Soon the leaves will spring out on the trees and the sunrise and moonrise will not be visible through the foliage .

Times:

Meet at Shed Bridge at 5:25pm

Start pedaling at 5:30pm

Get to the top at 6:15pm

No pesto and pasta will be offered on this ride. Hopefully we will enjoy the sunset and the full moon scheduled to rise 10 minutes after sunset.

Often times the sunset is most beautiful during the period following the time it actually goes below the horizon, so plan on lingering and enjoying if you want. When we return to the bridge it may be dark so bring bike lights if you have em.


NOTE: Those that have them, please bring bike lights for the ride back down the mountain.


Details: This ride is a continuous uphill climb to the top of Matney Knob on the south side of the White River near the Shed Bridge.
It is estimated that comfort zone riders will make it to the top of Matney in approximately 45 minutes. Speed freaks might make it in 30 minutes. Slow survivors may take an hour.
This is a different type of ride than normal in that it is a steady continuous uphill climb. A different sort of philosophical riding attitude is necessary to increase your riding enjoyment. Don't ask yourself how fast you can make it to the top, and don't ask yourself how high a gear you can make the climb in. Rather, ask yourself how comfortably can you make it to the top. This usually takes a low gear and a slow easy pace.
At the top we plan on watching the sunset over baxter county.
Once the sun set is no longer awesome, riders can make a mad (s a f e) dash back to parking. Estimated time: 10 minutes.


The route is a combination of paved and dirt roads. The incline is gentle for the most part, but, it is a continuous uphill. Hopfully, mothernature will provide us with a spectacular sunset. ARRIBA!